Here's a gallery of engines that I've worked on showing before and after shots so that you can see the thoroughness and attention to detail that I put in to each and every component that you want restored.
I've always had a bike and love bikes from the 70s and when I was 19 I bought my first Suzuki GS850G and loved it.
Having never forgotten that bike I decided that I wanted another, found one on Ebay, won the sale and collected it from Hull in August 2013.
I had my friend check the bike over (he's possibly the best motorcycle mechanic in Swindon) and he said that it had been well maintained so I had him balance the carbs, change the oil and carry out a full service. I then had 6 months of fun before taking it off the road.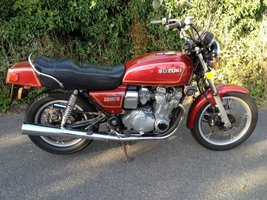 Now the real work has started because I'm now in the middle of a full restoration to make the bike "as good as new" or even better, if possible.
So far, I've stripped the bike down completely, had the frame sand blasted and powder coated and am currently working on the engine and other parts. I sent the engine away to Bristol for vapour blasting and was so disappointed with the quality of the work that I bought my own vapour blasting cabinet so that I can restore parts to the type of high quality that I require.
You can read the full story of my bike here and see the work as it progresses in the gallery and if you are looking to restore your bike then give me a call on 01793 848 314, drop me an email to info@vapour-blasting-swindon.co.uk or pop by the workshop at Unit 5, Elm Court Industrial Estate, Station Road, Royal Wootton Bassett, SN4 7ED