I've always had a bike, got my first bike when I was 16, my full bike licence when I was 17 and have owned more than 20 bikes since. I have a particular love for bikes from the 70s and when I was 19 I bought my first Suzuki GS850G and loved it. It had the most comfortable and smooth ride of any bike that I've ever owned - not just as a 7os bike and it's now classed as a Classic.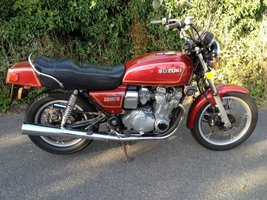 Having never forgotten that bike I decided that I wanted another, found one on Ebay, won the sale and collected it from Hull in August 2013.
The bike was first registered in Texas in 1981 (new) and was imported in to the UK in September 1996 and I've got all of the suporting paperwork
I had my friend check the bike over (he's possibly the best motorcycle mechanic in Swindon) and he said that it had been well maintained so I had him balance the carbs, change the oil and carry out a full service. I then had 6 months of fun before taking it off the road.
Now the real work has started because I'm now in the middle of a full "nuts & bolts" restoration to make the bike "as good as new" or even better, if possible and you can see lots more pictures of progess on the Suzuki GS850G page.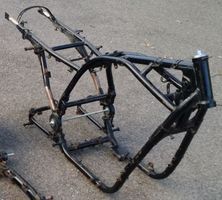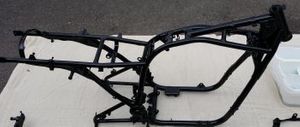 So far, I've stripped the bike down completely, had the frame sand blasted and powder coated and am currently working on the engine and other parts. I sent the engine away to Bristol to be vapour blasted and was so disappointed with the quality of the work that I bought my own vapour blasting cabinet so that I can restore parts to the type of high quality that I require. You can see more photos on the gallery page.
As well as the engine and frame for my bike, I've also restored, so far, a Honda 500cc straight 4, a Yamaha RD350 YPVS and an engine from an unidentified bike.
If you'd like me to do the same for your engine - please give me a call - 07904 934060 or email info@vapour-blasting-swindon.co.uk